---

Autumn Schweiss records impressive finish in National Rider Championships
By Pat Schmidt
Representing the USA team for the second time in the North American Junior and Young Rider championships in the CC Two-Star division, Autumn Schweiss, 21, of Fairfax, Minnesota recorded a score that made her and her parents, Mike and Julie Schweiss very proud.
Schweiss finished the first portion of competition in fourth place overall competing against a field of 71 riders in her division coming from the United States, Canada and as far away as Puerto Rico. The competition at Alltech Arena Kentucky Horse Park in Lexington, Kentucky had over 1,100 competitors, some of whom rode multiple horses in the events.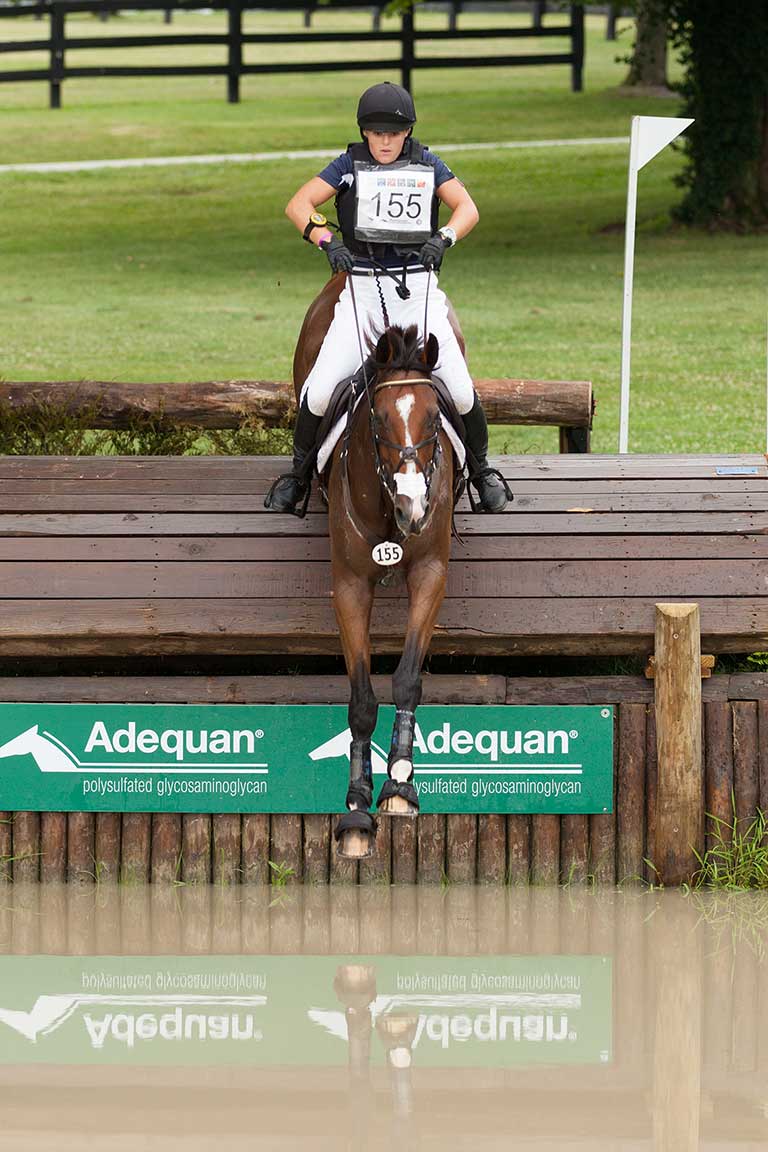 "I really do love cross-country, it defines our sport. I do my best to clear my mind before, because this phase is nothing to play around with."
Schweiss rode Oakport Strauss, "Dave" her 10-year-old Irish Sport Thoroughbred in all events finishing third in the second day cross-country competition with a time of 9:19 and with an impressive overall fifth place. She missed a bronze medal finish by just six points. Winning the event was David Ziegler, 16, of Canada.
"I really do love cross-country, it defines our sport. I do my best to clear my mind before because this phase is nothing to play around with. All it takes is one wrong step or one unnecessary tug on your horse and that is it; everything can go wrong. I found this out earlier this year when I took a tumble at Chatt. Hills," said Schweiss.
She noted that it is paramount to have a fit horse. If you don't, it would be like asking a person who has never run a day in their life to go and run a marathon and finish in the top 10 percentile.
"Oakport Strauss was a bit tired at the 8 minute mark in the cross-country course which was the most difficult I had seen all year, however he has a heart of gold and pulled my arms out the entire way. He was 'foot perfect' the entire week," said Schweiss. "I make it a point to improve on at least one thing at every show. I like to fly low on the radar."
Schweiss said she was prepared for the competition and knew she was good enough to be there. The most challenging part of the Lexington competition for her was the environment. Her day started at 4 a.m. making it to the barn by 5:30 a.m. The day doesn't end until 8 p.m. and then it's to bed by 10 p.m. to do it all over again for the week.
"My nerves were surprisingly under control; however, I was more nervous when I was in my motel room. I just wanted to be with my horse 24/7. I knew exactly what my job was and what was expected of me," recalled Schweiss. Her impressive finish at Lexington now qualifies her for Two-Star competition in 2015 along with Three-Star events in the future. She is now listed on the United States Eventing Association (USEA) leader board in fifth place as the best Intermediate rider in the United States.
"The most fun part was being part of the United States team again and competing against the best young riders in America. It is not often a rider is ever a part of a team representing USA. I was honored to be part of the experience riding in a well-renowned facility, it was amazing," added Schweiss.
Two-Star is the Intermediate level for horses and riders of at least 16 years of age with some experience riding three-day events and who are just starting to begin International competition.
She said she has no plans set for 2015. She is currently attending the University of Florida in the pre-medical program and has a deep desire to do well there.