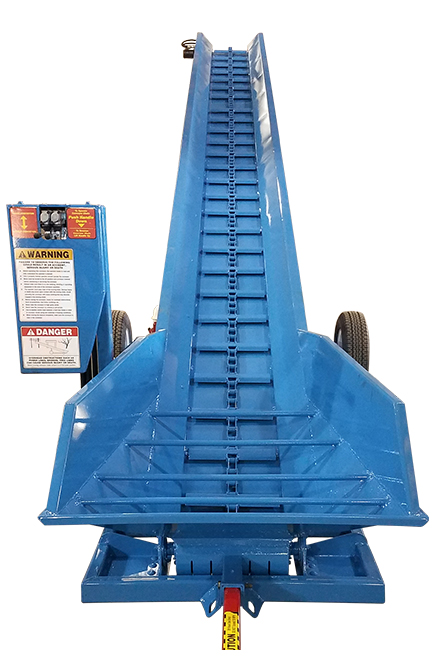 Once the dumpster's back doors are closed there's still more space available in the dumpster to make sure you are filling the dumpster to the top; now there's more reshoveling to do! You then begin by dumping the full load of manure on the ground near the dumpster and reshovel the manure up over the sides into the dumpster; its a good workout!
When the dumpster is nearly full, you then crawl on top of the dumpster and shovel the manure higher up by hand to make even more room. Imagine standing on a load of shit reorganizing the load just to make sure the dumpster is plumb full so you get your monies worth!
When shoveling by hand you can't possibly load it as efficiently as you can with the manure conveyor/ elevator. You actually get more material into the dumpster without having to crawl in the dumpster to re-level the load to make more room to stretch more days of storage use out of your container.
Whether you are inclining up a steep bank or moving material across level ground, down a slope, or below-grade excavating with your wheelbarrow, you can get the manure into a dumpster of some sort with the portable conveyor system that offers a unique safe solution for a difficult job.
"Moving horse manure can be very labor intensive and a waste of time and energy where better constructive time can be spent grooming, riding or training a horse," said Mike Schweiss. "Anybody who uses the elevator for the first time will be sold on it immediately."